It's the hoariest cliche in film noir-dom, the femme fatale. At her best, she blends murder and seduction, corrupting the hero and throwing his neatly-ordered moral world askew. At worst, she's the cackling crone who always manages to produce a revolver when the hero's back is turned, usually from the folds of her shoulder-padded night gown.
It's a sexist construction, sure. Women are far less likely to commit murder...except in postwar Hollywood.
The femme fatale usually doesn't reveal herself as such until later in the film. At first she's just a beautiful woman, usually married, yet sexually available. She appears to be in need, and turns to our hero for help. Deliver this package for me. Keep my name out of the police investigation. Accomplishing this implicates the hero, and soon he's trod down that slippery slope to the point where she's in his arms, trading sex for murder.
Hammett, Chandler and Cain are responsible for the femme fatale**. Hammett wrote the best example, Chandler the worst*** , and Cain the most human. The resulting films--The Maltese Falcon, Murder My Sweet, The Big Sleep, Double Indemnity, The Postman Always Rings Twice--are brilliant, but taken as a unity, tell us one thing. Woman, especially sexually active women, are fucking evil harpies who will betray you given half a chance.
What's interesting about Born to Kill is that it reverses the femme fatale cliche, in three ways. First, the sexual predator is male. Laurence Tierney seduces a pair of San Francisco socialites, one for money, the other seemingly for love. He exudes the same sexual magnetism as the femme fatale, pulling the women into his web of corruption, turning them against each other. While the bond between him and the Elisha Cook Jr character is never specified as more than friendship, Cook is willing to murder an old woman on Tierney's behalf, which speaks perhaps to an attraction, if only one way. The sex object of the film is undoubtedly Tierney.
Second, unlike the classic femme fatale, Tierney's evil is revealed early in the film, when he beats to death the boyfriend of an old flame. This sets the viewer against him from the get-go (okay, not for Josh and me, but for the theoretical viewer, who likely isn't enamored with a guy landing Tyson-esque uppercuts on someone half his size).
What we're seeing in Born to Kill is a femme fatale's-eye-view of the world, where the goal is seduction, acquisition of power, and murder. Not unlike Richard III, we're put in the corner of the bad guy; the entertainment comes from how far his depravity is allowed to go before he gets his inevitable comeuppance.
Third, the detective in most femme fatale stories is usually the sexual normative. By that I mean, an attractive man who is in control of his sex drives. For instance, in The Maltese Falcon, we have the sexual normative Sam Spade at the centre, with the fat (Sidney Greenstreet's Gutman), the gay (Peter Lorre's Cairo), the weak (Elish Cook Jr--who else?) and the woman (Bridgid O'Shaughnessy) arrayed around him. He is the hero partly because his sexual desires are in check and he knows his role. This holds for most films noirs--the detective is "a good man in a bad world," as Chandler said.
In Born to Kill, the detective is a fat bastard, willing to sell out his client for a better deal. He ends up turning Tierney and company in not from any attack of scruples, but because they won't pony up the dough he needs. Walter Slezak presents no sexual normative whatsoever--most people in the film can barely stand his company. Worse, he's willing to pose as a menial dishwasher to glean information on Tierney and Claire Trevor. Can you imagine Bogey doing that? Slezak has a social fluidity and a moral cloudiness that puts him at odds with `the Marlowes and Spades and Keyses.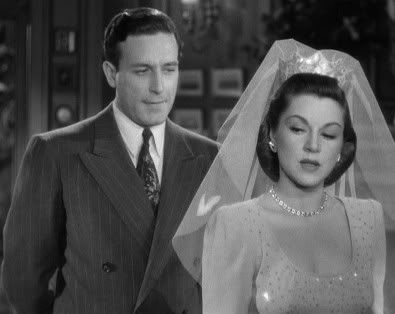 Born to Kill inverts and subverts the tropes of the film noir genre, showing a sexually irresistable man leading an unsuspecting woman to damnation. Claire Trevor, bouncy in Stagecoach, attractive enough in Murder My Sweet, and not quite the broken down lush she would play a year later in Key Largo, plays the Fred MacMurray part perfectly. Tierney is menacing and magnetic. And Elisha Cook Jr does what he does best--ruin everything through weakness and incompetence. Worth a gander.
*Note that Robert Wise's name didn't come up once in this post.
** What of Lady MacBeth, you ask? (No one ever asks.) I wouldn't characterize her as a femme fatale, because while she does advocate murder, she does it for the hero's benefit, and feels bad about it later. The classic femme fatales are out for themselves and feel nothing.
***Chandler's FFs are also the most prevalent--try and find a Chandler novel where it ISN'T the woman in the end, I double dog dare you. Chandler was married to a woman much older than him, and might have resented it, just a teensy bit.